60)" @mobile-menu-change="$event.detail.state ? document.body.classList.add('lock-position') : document.body.classList.remove('lock-position')" x-data="{headerDropdownNext: false, headerDropdown: false, topActive: false, searchOpen: false, mobileOpen: false, activeScreen: false, mobileSearchOpen: false}">
Whitepaper
Understanding Robotic Process Automation: Developing Business Cases and Getting Started
Are you realizing the benefits of Robotic Process Automation?
Canon Business Process Services is pleased to provide you with important research on developing the business case for robotic process automation in your organization and getting started. Your business case should cover value drivers as well as implementation criteria spanning workflows, information management, technology and service delivery. The report includes a special focus on best practices for developing roadmaps and launching RPA technology.
A structured approach is required for developing RPA business cases. These should cover a broad range of criteria, including value drivers, process, data, technology and service delivery model. Although RPA technology is new and there is limited real-world experience with full-lifecycle, large-scale deployments, a number of best practices for developing roadmaps and launching implementations are emerging. Specifically:
Designate an RPA champion.
Align RPA initiative with continuous improvement programs:
Plan based on conservative, risk-adjusted assumptions.
Create a structured, process-led approach to evaluate and prioritize initiatives.
Establish governance and business-IT collaboration early in the project.
Manage change formally.
Align the project with the strategy and operating principles of the business.
Lead the effort from within the Global Business Services organization.
Establish an RPA Center of Excellence once the project is up and running.
Robotic Process Automation Business Case Evaluation Criteria
Findings from The Hackett Group's analysis of RPA imply a number of critical success factors for RPA deployments. These are based on evaluation criteria for potential uses of RPA. Business support functions (Finance, HR, IT, Procurement) and Global Business Services organizations must develop a structured evaluation model for RPA business cases using these criteria:
Business value drivers
Process attributes
Data attributes
Technology attributes
Service delivery model attributes
A Structured RPA Evaluation Process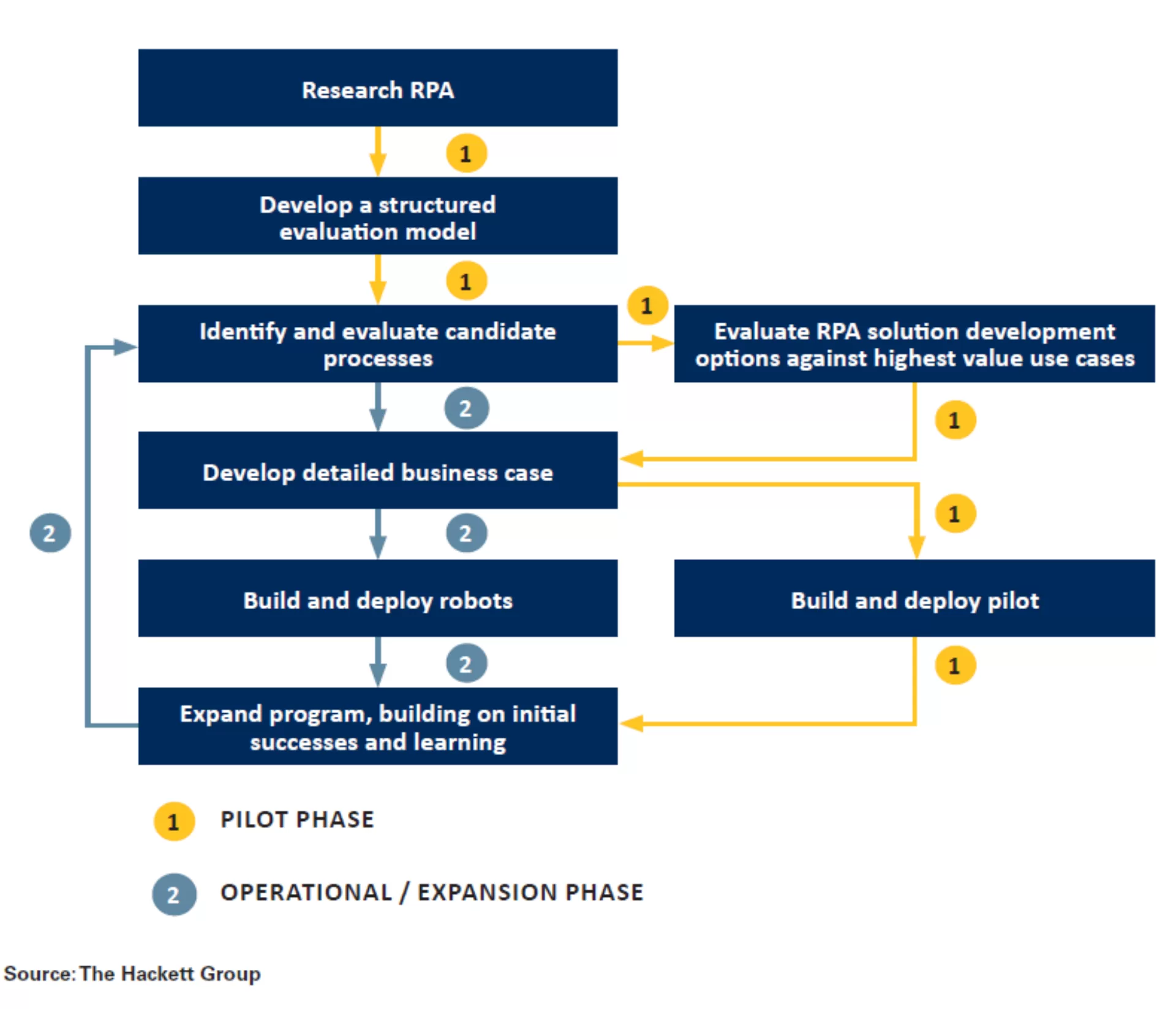 Next Steps: Developing an Robotic Process Automation Roadmap
RPA analysis in this research series up to this point may leave business leaders feeling conflicted about what to do next. While compelling business cases may exist, pursuit of these opportunities must be balanced with risks and the company's mid- and long-term technology roadmap. Governance and definition of roles and responsibilities of the business and IT are other important considerations. Embarking on an RPA journey without effective governance virtually guarantees inefficiencies and maintenance issues down the road.
Furthermore, RPA raises important questions about BPO relationships and the sourcing model. Should RPA expertise be built in-house and work insourced? Should companies put pressure on incumbent BPOs to go down the RPA path, or look for other BPO service providers with strong RPA capabilities? These uncertainties notwithstanding, The Hackett Group advises business services organizations to develop an RPA adoption strategy and roadmap to guide them in their robotic process automation journey.