60)" @mobile-menu-change="$event.detail.state ? document.body.classList.add('lock-position') : document.body.classList.remove('lock-position')" x-data="{headerDropdownNext: false, headerDropdown: false, topActive: false, searchOpen: false, mobileOpen: false, activeScreen: false, mobileSearchOpen: false}">
Law Firm Support Services
Canon advances the legal workplace through service transformation and a redefined workplace experience.
As a result of the COVID-19 pandemic, law firms are considering new approaches for operating in a "hybrid office." A key characteristic of a hybrid office is that it relies on an office services support team, as well as automated workflow processes and technology solutions. The overriding goal is to enable law firm professionals to work efficiently either in the office or remotely. The moment to tackle this objective is now, which is why forward-thinking firms are launching service transformation initiatives to establish a new workplace paradigm.
Canon Innovates with New Support Models for the Hybrid Office
To optimize operations in this new office environment, law firms are increasingly seeking outside assistance. Almost every industry, including legal, is experiencing a massive shift from office-based activities to a combined on-site and work-from-home strategy. That is why it is essential to partner with an expert managed services provider such as Canon. We can help your firm quickly evolve its workplace and support service delivery to meet the challenges that are rapidly changing how law firms work. This evolution requires a shift from traditional to transformative office, facility and support services. The right partner can help you successfully manage this shift. This includes creating and deploying best practices, which can be a crucial element along with technology and resources to support and manage service requests. As you consider this partnership, it is important to know what you should look for in a managed services provider.
A Customized, On-site Approach to Optimizing Your Firm's Essential Work Culture
One important difference in our approach is that Canon has the flexibility to deliver customized law firm support services, on-site at your location. In addition to implementing a leading-edge, tailored solution that supports your specific hybrid office needs we offer an elevated approach to legal managed services. This advanced approach includes an elevated and integrated approach to reception, hospitality, facility and office services, document services, mail/messenger, procurement/vendor management, enterprise print and device management, records management, and legal to business administrative services.

Advance Your Hybrid Workforce With New, Transformed Support Models
01
Assess Current State
Determine adequate staff levels and reassess the scope of work.
Create the 3 to 5 year roadmap
02
Create the 3 to 5 year roadmap
Build a plan that specifies digital transformation strategies, hybrid workplace best practices, and performance management initiatives.
03
Leverage Automation
Automate service and support requests, provide visible resource management, work prioritization and workload balance.
Harness Digital Transformation
04
Harness Digital Transformation
Define a digital transformation strategy. Review your document intake process and identify opportunities to improve workflow and reduce paper dependence.
05
Centralize and Expand
Centralize service teams and expand the scope of work and hours of operation. Leverage hub/spoke models and escalation points for support services across your firm.
Law Firm Support and Transformation Services Can Give You A Competitive Advantage
Workplace Experience Services
Document Distribution Services
Administrative/Office Services
Digital Enablement
Canon Supports Your Initiatives Enabling Your Knowledge Workers To Work from Anywhere
Canon Resource Center [On-site]
From space management, to workplace experience, to administration and business services, Canon provides the support you need to advance your workplace experience.
Canon Concierge Center [Off-site]
Canon provides an extension of the on-site teams to virtual services for technology support, concierge and reception services to deliver a convenient, intuitive overall experience.
Innovative Law Office Support Services Advance the Workplace Experience
CASE STUDY
A leading international law firm launched an initiative to meet two key challenges. One was connected with the planned relocation of the firm's corporate headquarters to a new site. The goal was to engage a managed services provider to help the firm reduce a significant amount of paper documents accumulated over decades of being in the same location; paper that the firm didn't want to bring to the new site. The firm's other challenge, also related to the move, was to consolidate its office services program from two managed services providers to one. The firm wanted one partner that had the expertise to oversee its mail, print/copy, office services and records management operations as well as enhance the end user experience through a customized services program.

A strategy was developed for the on-site delivery of critical services. Canon showed that it could deliver on this initiative based on experienced on-site and off-site personnel and a detailed project plan. As a result, the firm engaged Canon for document scanning. While the firm was considering proposals for office services, Canon was building credibility based on how its on-site team was managing the office move/scanning project. Canon's team worked closely and efficiently with the firm's administrative personnel and business stakeholder; effectively managed logistics; successfully coordinated Canon's off-site support capabilities; and consistently maintained smooth, streamlined workflows. This proven credibility, plus the ability to meet the firm's objectives, contributed to the firm awarding Canon the office services contract for all of the firm's locations.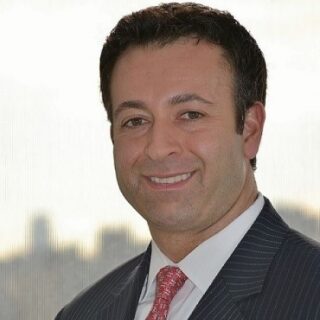 We Help Legal Organizations Leverage Transformative Approaches and Technology Solutions
"Our clients count on us to help identify areas within the firm that better prepare them for the future of work. With more than 30 years of experience serving the legal community, we are the go-to provider for on-site workplace experience services, administrative and business support services, records management and information governance, print and mail center services. Our teams are dedicated to providing the highest level of service and truly value the client relationships we have built over the years."
Scott
Vice President