60)" @mobile-menu-change="$event.detail.state ? document.body.classList.add('lock-position') : document.body.classList.remove('lock-position')" x-data="{headerDropdownNext: false, headerDropdown: false, topActive: false, searchOpen: false, mobileOpen: false, activeScreen: false, mobileSearchOpen: false}">
Reports
Facilities Management Challenges and Opportunities in 2016
Achieving Service Excellence
Every day, facilities management (FM) executives and their teams are charged with a complex task: deliver vital services that support their organization's employees and site operations. In this report, Canon Business Process Services (Canon) asked FM executives to share insights about the challenges and opportunities they encounter while trying to maintain, and improve, support services at facilities spanning medium- to large-size companies. The majority of respondents (97%) work at organizations with more than 1,000 employees. The latter point is relevant because successfully delivering support services at large, multi-building corporate campuses with thousands of employees is a special focus of this report. One reason is that there is little available data on this topic. Second, due to the scale, complexity and special skills required to manage Facilities and Logistics Management Services, outsourcing is often a key ingredient to success. New approaches to outsourcing are now available, a trend we address in the Conclusion section.
One thing is clear: As we approach the year ahead, now is the time for FM executives to reset expectations as well as identify gaps and new opportunities for filling them in order to succeed. As an example, an over-whelming majority of executives said that maintaining high customer satisfaction is both their most important (94%) as well as their most challenging (91%) responsibility when it comes to delivering high-quality support services. Yet only 78% of respondents indicate that they measure customer satisfaction for their site operations. Whatever the reason—lack of measurement skills, resources, tools or other challenges—this finding indicates that measuring such key performance indicators may be a significant opportunity for some organizations. Indeed, for others it may create a mandate for action.
Which activities are most difficult to manage?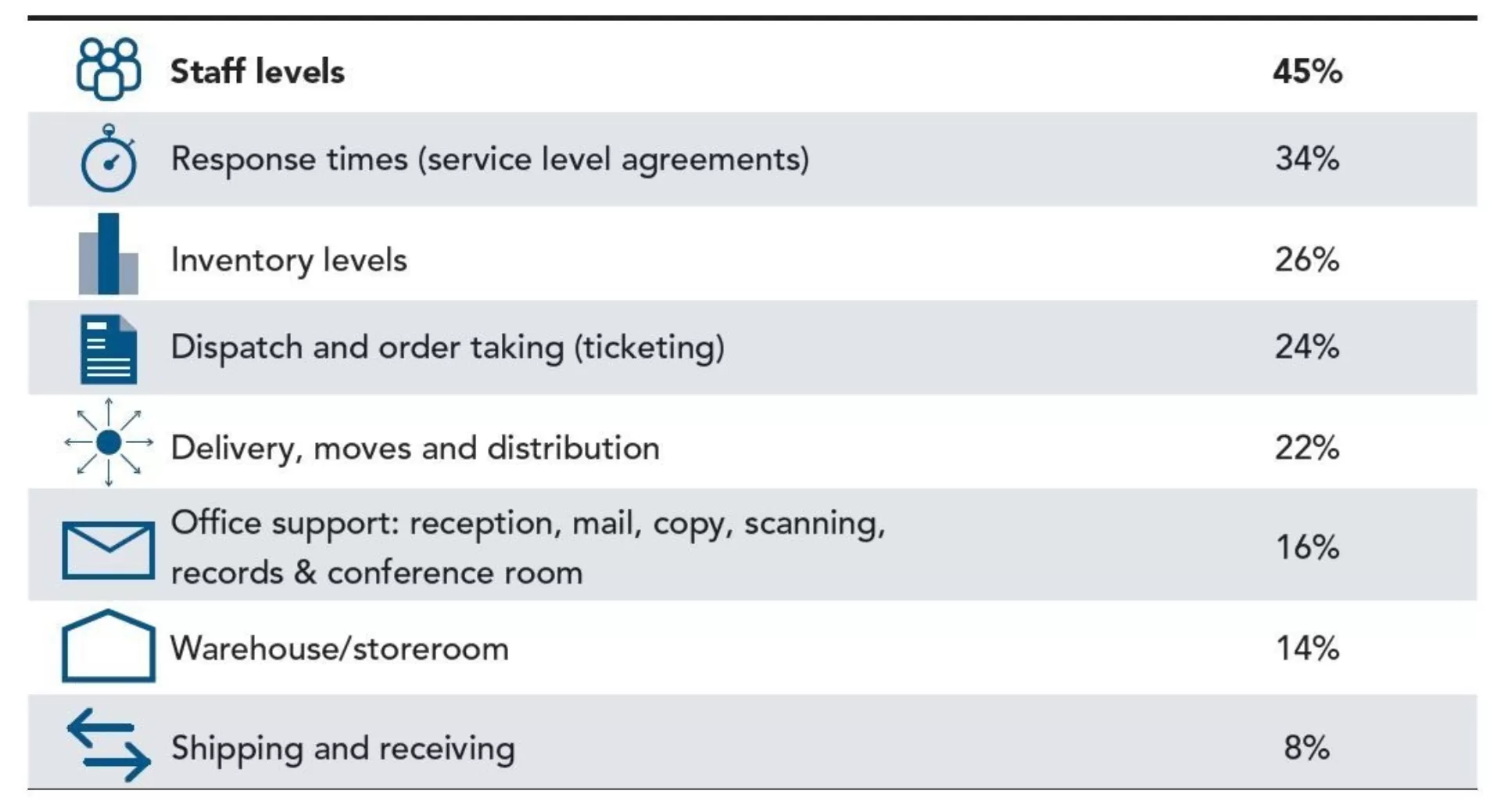 The goal of "Achieving Service Excellence" is to help FM professionals better clarify these kinds of opportunities as well as give executives a chance to share their most urgent priorities and uncover what tools, techniques, technologies and approaches might provide an edge in the never-ending mission to achieve excellence in facilities support services.