60)" @mobile-menu-change="$event.detail.state ? document.body.classList.add('lock-position') : document.body.classList.remove('lock-position')" x-data="{headerDropdownNext: false, headerDropdown: false, topActive: false, searchOpen: false, mobileOpen: false, activeScreen: false, mobileSearchOpen: false}">
Case Study
Canon Supports Facebook by Enhancing Facilities Management and Improving the Employee Workplace Experience
Case Study
Canon Supports Facebook by Enhancing Facilities Management and Improving the Employee Workplace Experience
A Need For Improved Services
Facebook had an important objective: find ways to improve the services vendors were providing, increase the value being realized and better contain the costs. Hines, a leading, privately owned global real estate investment, development and management firm, oversees facilities management and other vendors on behalf of Facebook. Both companies decided the time was right to review the vendor relationships that had been in place for some time with a special focus on transparency and access to innovation.
"We saw an opportunity to potentially realize improvements in several areas," stated Jayson Jones, program manager for Hines. "One such review centered on Facebook's mail, shipping and receiving and security screening operation." Jones saw this as an opportunity to potentially reduce costs; improve safety and security process and procedures; more efficiently deploy and manage staff; institute more effective communication programs; improve employee morale by recognizing good work and providing more opportunities to advance; and implement enhanced processes and technology that would improve operational efficiency.
Upon analysis, Canon had concluded that with Facebook's previous vendor, Facebook was unnecessarily paying for several positions that spanned areas including human resources, finance and process improvement. In contrast, Canon subject matter experts could meet these business needs as part of its program at no extra cost.
Finding Opportunities For Improved Efficiency
An initial assessment process eventually entailed Canon specialists visiting several Facebook sites. Some of the visits lasted hours and included business analysts and HR experts, all seeking to achieve insight into challenges and opportunities connected with Facebook's present situation. "In this way, we actually started working together on solutions before a contract was ever signed," Jones explains.
Canon was up to the challenge. Once the contract was finalized, Canon assigned a dedicated implementation manager and assembled a full implementation team to get the job done. These professionals included operations executives; Six Sigma-certified® process improvement experts; mail security screening specialists; and human resources personnel. Many members of the HR team visited Facebook locations across the country to interview employees and make sure they were up to date and confident about Canon's programs and the pending changes. Many employees received the welcome news that they would receive pay increases, enhanced benefits, more in-depth training and better opportunities to advance their careers. Additionally, Canon hired a National Operations Manager who was on location a few weeks before the contract went live.
"We actually started working together on solutions before a contract was ever signed." - Jayson Jones, Hines Program Manager
A consideration in selecting Canon was flexibility. For example, Facebook was moving its warehouse and mail intake center operation, a business development that was discussed with Canon but not included in the RFP. Canon's warehouse and distribution team took the initiative to create a comprehensive checklist of key deliverables that Canon could manage in order to help ensure a smooth relocation of the mail center.
Another consideration was creativity and innovation. In its RFP response, Canon demonstrated that it understood Facebook's culture by taking the time to detail recommended "future state" initiatives. These were designed to provide Facebook employees—including those in the mail and shipping operation—with inventive services and an overall enhanced workplace experience.
One of these recommendations was dubbed the "Ship Ahoy" program. Some Facebook campuses have shipping and receiving centers located within various buildings around the campus. These facilities enable employees to enter and receive mail or packages as well as drop off parcels for shipping. Canon recommended the "Ship Ahoy" initiative program to accommodate those more remote Facebook locations that don't have an internal shipping and receiving center in place. With Canon's program, a truck would visit these campus locations at certain times and provide the service. While the "Ship Ahoy" program has not yet been initiated, it remains a possibility for future implementation.
Canon Has a Comprehensive Set of Services within the Distribution Center
Canon Facilities and Logistics Management Services, which encompass mail, shipping and receiving and security screening services within Facebook's main distribution center and the shipping and receiving centers located in various buildings. At the distribution center, all large packages and mail go through an extensive screening protocol that requires enhanced training to use the equipment.
The Canon team disperses packages and mail to the campus shipping/receiving centers (which Canon also manages) and delivers the articles to employees. Canon's operations service the Menlo Park, CA headquarters campus as well as seven other major locations.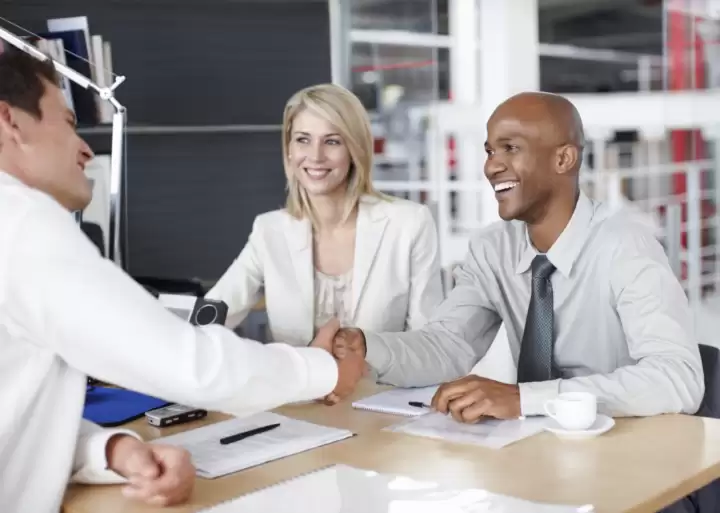 Solid Business Benefits Include Cost Reductions
Hines and Facebook have realized several important business benefits from Canon's program. These include cost reductions that to date total approximately $2 million annually. The savings stem from a variety of factors including more effectively deploying and managing staff; installing new technology and instituting more effective, competitively-priced vendor programs designed to improve shipping and tracking; and implementing more efficient business processes and workflows. Additionally, with the previous vendor Facebook was paying for several corporate support positions in such areas as human resources, finance and health and safety. When Canon took over it provided subject matter experts who could meet these functional needs as part of the program at no extra cost—another significant factor that generated savings.

Over and above cost savings, Canon has also helped Hines and Facebook achieve a number of significant workforce and administrative enhancements. The former includes more effective communication between the employees and Canon. This has helped drive not only operational improvements and workflow efficiencies, but an increase in employee morale due to better training and more opportunities to earn promotions and achieve career advancement. On the administrative side, Canon has deployed a new fleet of vehicles for intra-campus deliveries. Many of these vehicles are electric—saving money and furthering sustainability initiatives—and feature new conveniences such as lift gates.

On its website Facebook states that its mission is to offer products that empower people to share ideas, offer support and make a difference. Through its services, Canon has demonstrated that it has the same vision for Facebook and its employees.